Your New Kopage,
Quick Tour

.
Kopage Website Builder
for webhosting providers, installed on your own servers & promoting your own brand.
Intuitive Interface

The user's interface is as intuitive as possible and every feature is a click away.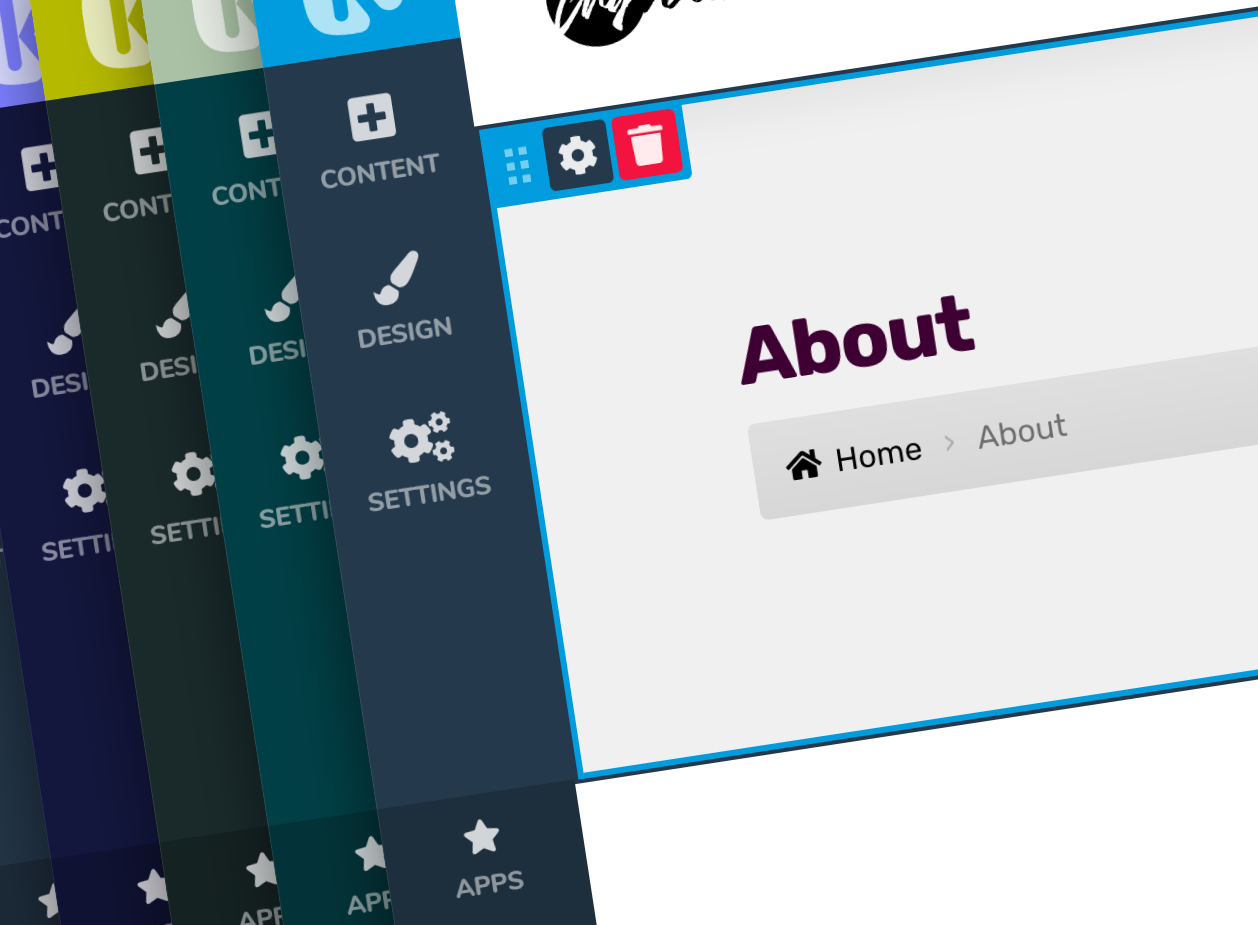 Left Toolbar

Users will always* see all the important parts of their website editor. Easy access to website design section, settings, next contents and apps (modules like built-in Forms Maker, Shopping Cart or Newsletter)
*click the logo to hide toolbar.

White Label

You can customize interface colors to make sure it fits to your own brand, and with PRO+ package you can complerely rebrand it with your own logo.
Editable Areas

Each editable element is separated to make sure it's almost impossible to break pre-defined content blocks. Additionally user has up to 20 undo steps available in case of anything went wrong.

Don't worry:
They can't break it*

*OK, they can, but we made it more difficult to break anything, and up to 20-steps undo feature give your users enough freedom to experiment. But why it's so important? We're working together with tens of end-users helping them with their websites and this is what they were usually afraid of: they didn't want to break anything.

So we made this one of priorities and Kopage websites are not only nice looking, intuitive and user friendly, but also almost impossible to break. We didn't leave power users alone: each content block's HTML can be accessed with built-in HTML Editor, there's also support for custom HTML, CSS, JavaScript or even PHP.

Pre-Designed Content Blocks
Large collection of ready-made content blocks that are already designed to work perfectly on all devices, with subtle "on scroll" animations. They're organised into categories, so clients can easily find one they like, add to website and replace text or images.
Ready-made LEGO®-like content blocks

Add. Edit. Drag & Drop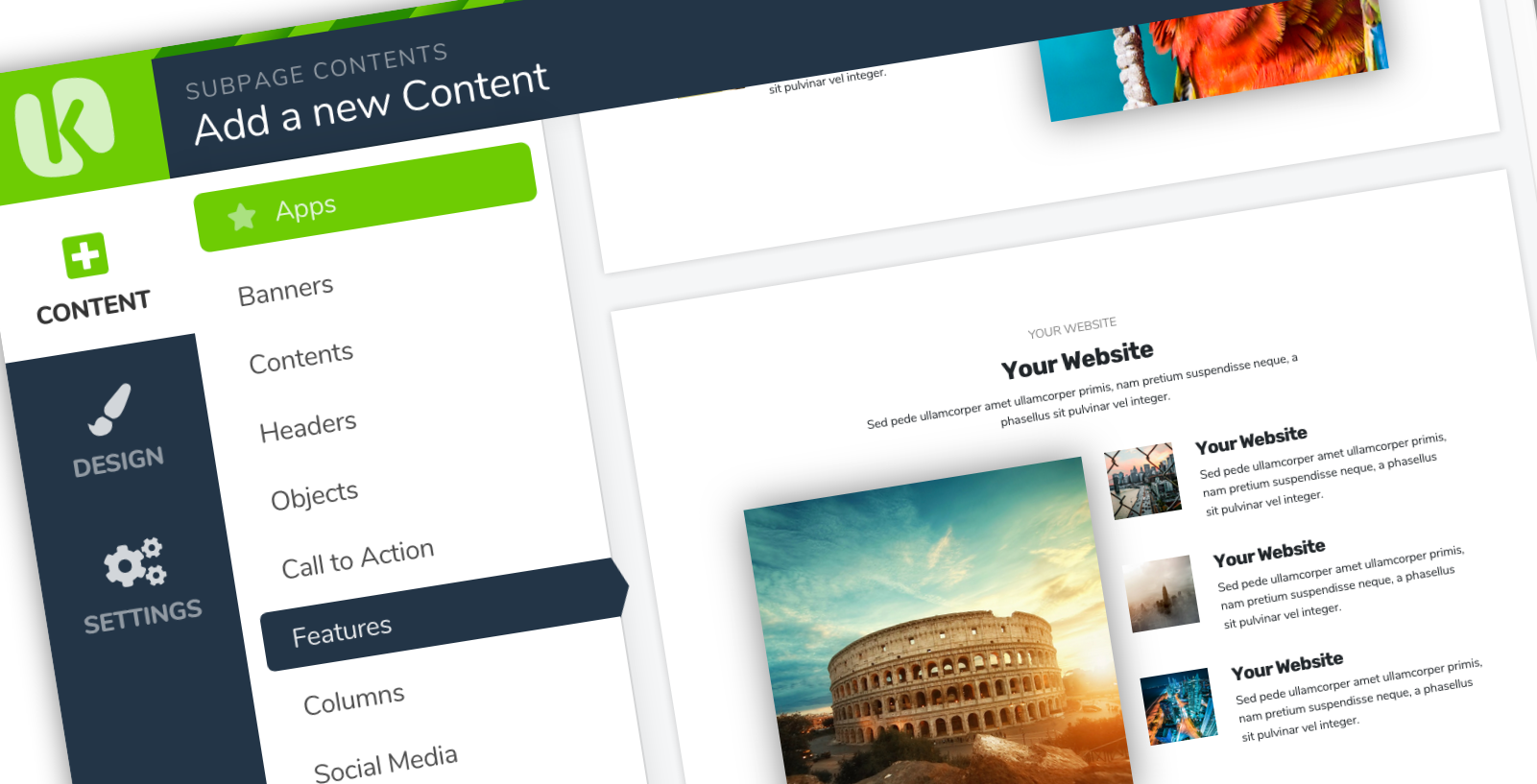 Everyone is a Designer now.


Websites built with Kopage Sitebuilder look nice and professional. Content blocks and decoration dividers, amazing color schemes and world-class fonts provided by Google.
Built-in Header Menu Designer for professional users, who know what they want: it's now possible to do with few clicks.
Modules with predefined design options, one click to switch the way your app (like form or gallery) looks like.

Build websites you'll love to look at

Beautiful Design.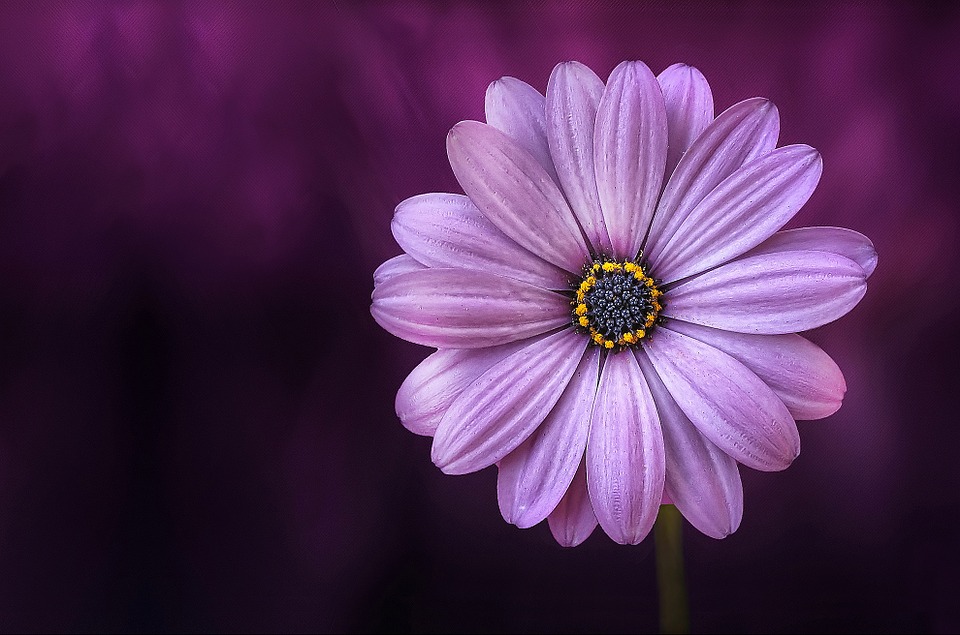 All your clients need when building a website.
And more.

Beautiful content blocks, with predefined sections and subtle "on-scroll" animations. Files manager, where you can upload their own images, choose from thousands of free photos, free illustrations and even purchase premium royalty-free photos.

Managing a website content and adding dynamic modules, like built-in shopping cart, forms maker, blog and more! Easy access to everything that's important from left menu and with in-app buttons.

Technical Overview.

Kopage is installed on your own server

Not only "published" versions of clients' websites are located in your own infrastructure, but it all is.

Like WordPress, but it doesn't require MySQL and requires much less resources and CPU power.

Kopage is a PHP script

It means it'll not require any special configuration, it just works as soon as you upload it to your server. If you're not on industry-standard cPanel servers, but your server's configuration is standard, it should work out of box too. If not, allow us assist with setup. Just make sure PHP 7 and ionCube Loaders are available.

Easy to maintain

Your clients will see new version is available when they're logged in to website's admin. Upgrade process is automated, and as easy as "click and wait".
You can upgrade users websites too, by uploading new system files, data is separated, so when upgrading, data is safe.

Power-users friendly

Kopage is not only super-easy for people who want it to be easy, your power-clients will like it too. It's PHP based and it allows including not only custom HTML, CSS or JavaScript, but also PHP scripts - like we included
Login
and
Sign-up
on this website.
Each content block is customizable with built-in HTML editor.